About My Books
Trouble In The Mancos Valley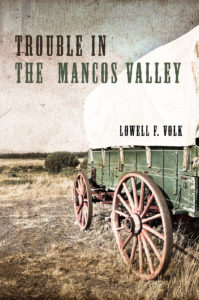 In a hurry to get back to Colorado from Texas after finding out that his father was killed Jake Burton is slowed down when he comes across the Hamman family in their covered wagon being attack by Indians. After Adam Hamman is killed, he cannot leave Elizabeth and her son Greg alone in the middle of nowhere and has to stay with them. After reaching home Jake looks for clues to find out who killed his father. With it looking like a new lawyer Gifford Clemens is responsible but how to prove it. Will the family remain safe while the trouble in the Mancos Valley continues and will Jake find the proof to convict the person who killed Randolph Burton?
You can fine the book available at the following locations.
Go to the site and search for my name Lowell F Volk and you will see all my books that are available.
Barnes & Noble Nook: http://www.barnesandnoble.com
Amazon Kindle : http://www.amazon.com
Google Play : http://play.google.com/store/books
Apple eBooks for the iPad can only be seen and purchased through the iBooks app on your Apple device.
Kobo eReader: http://www.kobobooks.com
Lukas Yates and the Roses can be found as an audio book at the following link.
https://www.amazon.com/Lukas-Yates-and-the-Roses/dp/B07X3QCKC8/ref=tmm_aud_swatch_0?_encoding=UTF8&qid=&sr=&fbclid=IwAR10-lHuW3WXEk4fQH95kQIabi2_hio3Vsv8FagQiUqp8bjn7VY4irmvKBg
or
https://www.audible.com/pd/Lukas-Yates-and-the-Roses-Audiobook/B07X3QCKD6
Look for the new cover for  the Audio  book

Lukas Yates and the Roses
Available on Amazon.com
                 "Love can be a magical thing unless you are Lukas Yates who is a man of his word. Having promised to aid the Rose family he finds himself drawn to the widow he has promised to aid after rescuing Shawnee and her daughter Connie from the Indians in Texas. Can Lukas find it in himself to keep the promise made to see the family to Colorado? Can his heart face the woman whose husband he failed to save?".
Trailer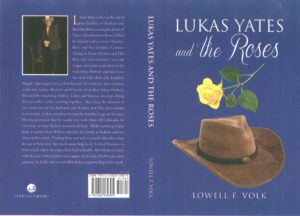 The following Review can be found on Amizon
I really enjoyed this book. It was fast paced with a lot of action!! Lowell Volk has done a great deal of research in what it was like emigrating to the West to make a new home. I loved the detail of how things were done each day yet it was not overdone with plenty of action throughout the book. There was some sadness but there was also hope. He portrays characters that no matter what obstacles they encountered their goals were attained. I have read 2 other of his Civil War Series which I would recommend also. I'm on the 3rd of that series now . Debbie
The Luke Taylor and Trevor Lane Series
E-Books available at Amazon.com
https://www.amazon.com/
Search for Lowell Volk
The Taylors Civil War
Look for the new cover in Paperback books in Amazon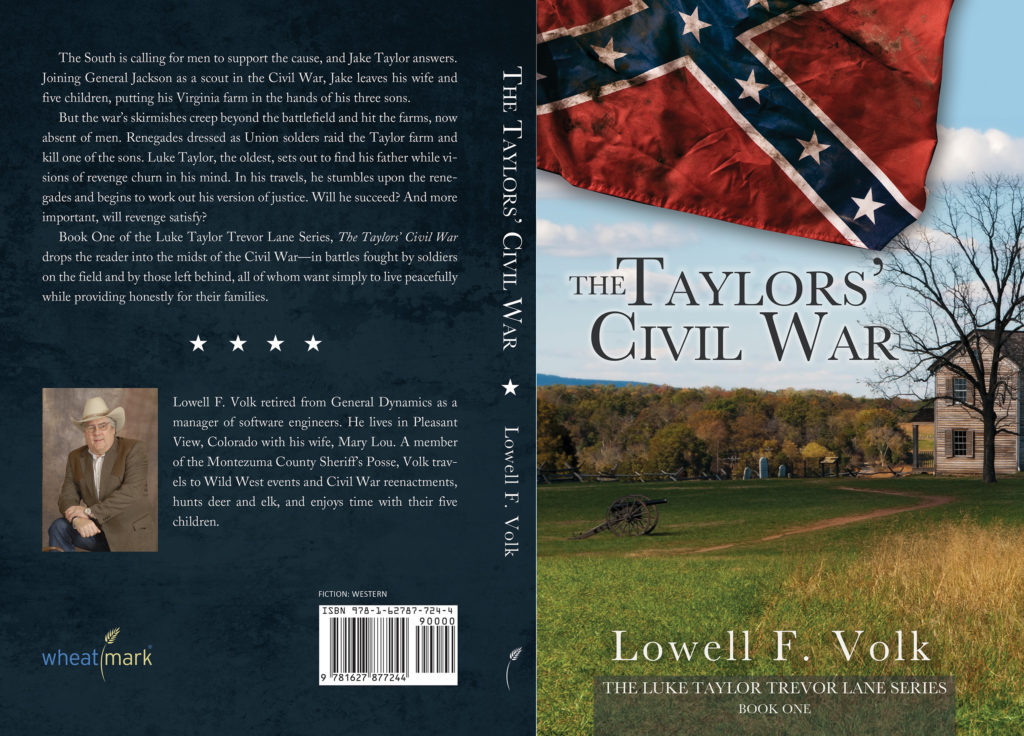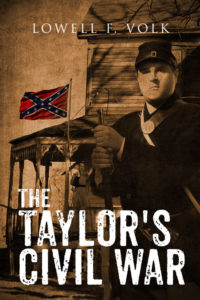 The Taylor's Civil War, a novel by Lowell F. Volk, is a moving, action-filled story of the Taylor family, farmers in Virginia at the time of the Civil War, portrays the family's struggle and hardship during this time when they too suffer loss of life and property.
When Luke Taylor's father leaves home to fight for the South in the Civil War, it's up to Luke to be the man of his family. Luke struggles to keep his family safe as Union soldiers march through the South burning crops, destroying buildings, killing livestock. When a band of renegades dressed as Union soldier attacks his home, killing his brother and beating him and his mother, Luke must leave the farm to find his father.
Luke Taylor Westward Bound

Luke Taylor Westward Bound Luke and his father return to see their farm facing a new threat – carpetbaggers from the North who threaten to seize their land. When Luke and his father resist, Luke has to kill a carpetbagger to defend his father. The leader of the carpetbaggers report to the Union army that Luke killed his man in cold blood. Luke must either stay with his family and risk being hanged or leave his home forever in search of a better life in the West.
In Luke Taylor—Westward Bound, Luke races against time, Union soldiers, and bounty hunters on his way to join a wagon train in Independence Missouri. With only a packhorse, a few days supply of food, and a stowaway dog, Luke heads west on a tense, adventure filled journey of survival, Luke Taylor—Westward Bound takes reader along on a thrilling quest for freedom, peace, and ultimately, revenge.
Trevor Lane and The Civil War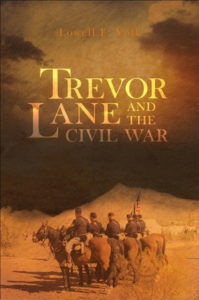 Trevor Lane and the Civil War When Trevor's family is killed he gets into trouble with the law. To prevent him from going to jail the Local Chief of Police works with the Judge to get Trevor into the Army. Follow Trevor through the war along with the Pennsylvania Sixth Calvary, also known as Morris Lancers.
After being captured by the Confederate Army Trevor almost dies while he is at Bell Isle prison. You can learn what life in prison was like for those who were captured during the war.
Thanks to new friends that Trevor meets in the Army he is not alone anymore. Not being around horses as he grew up he meets a horse that no one can handle. The two are loners and develop a friendship that lasts through out the war as they learn to depend on each other.
Trevor Lane and Independence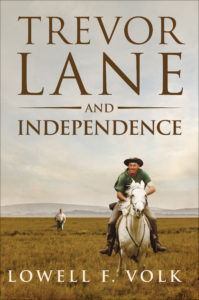 Trevor Lane and Independence When word comes that the war is over, Trevor travels back to the Wrights, only to find that their house has been destroyed and Margret and her son with it. He then decides he must move west carrying the weight of the loss with him as he goes.
Follow Trevor as he travels through the South trying to make it out West. Being a former Union soldier in the Civil War while also encountering the very people that took the Wrights and his future away from him.
Luke Taylor and Trevor Lane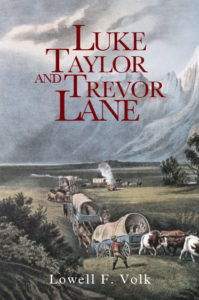 Luke Taylor and Trevor Lane Join Luke and Trevor as their adventures continue. They fight outlaws and Indians while heading west. After reaching Independence, Luke and Trevor join a wagon train. On this wagon train the two boys discover old friends are traveling with them. The Wrights are relatives of an old friend who had saved Trevor's life earlier during the war. The Daily's had met Luke when he was in St. Louis and were on the train with them. All of their old friends welcome each other and recounted good times from the past on the wagon train.
But not everyone is glad to see Luke and Trevor. Two men, who used to be part of Captain Fry's gang, are also on board. Will Luke and Trevor discover who these mysterious men are before they exact their revenge? Why are these two even on the train in the first place? Find out in Luke Taylor and Trevor Lane
A new beginning for Luke and Trevor
Now with a new cover available on Amazon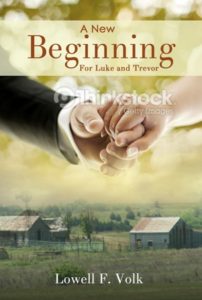 A New Beginning for Luke and Trevor After Luke and Trevor arrive in Colorado they begin a new adventure. Will they settle down or will they go further west exploring. Read about it in the New Beginning.