New Books to Come
Milo Ryder and the T Bar Ranch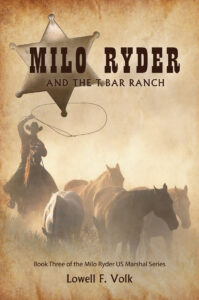 The adventures of Milo continue as he encounters outlaws who are controlling the T Bar Ranch after he buys it. This is the third book in the series.
Book reviews
YouthfulTips' & Annie's Book Blog – Feb 15, 2010
http://youthfultips-books.blogspot.com/
The Taylors' Civil War by Lowell F. Volk is set in Virginia and chronicles the trials and tribulations of a southern family, the Taylors, during the Civil War. It is a classic revenge book with action packed events that captured my attention and captivated me to finish reading it quickly. Although it was predictable at times and short, it had drama, love, action and suspense. The Taylors were a family who only wanted to live their lives and be farmers. While they were supportive of the military during the War, further events such as the murder of their son and events post the War tested their patriotism and their own will. I recommend this book for anyone interested in story that is well written and articulated with accuracy to the period and characters in which it takes place.
The Taylors' Civil War, June 6, 2010
Erice Wilcox – I received from Dorrance publishing Co. "The Taylors' Civil War" written by Lowell F. Volk to review. This book is a Historical Fiction account of the Taylor family during the Civil War. Living in Virginia the family fought on the Confederate side. The book is very eventful. Starting with the father going off to war and the family left to run the farm. The story unfolds from both the fathers perspective and the oldest son. The story has lots of personal tragedy as the story leads the oldest son to look for his father and during his travels looking for the carpetbaggers that had killed his brother and beaten his mother. You will find lots of adventure with bloody results from encounters with the outlaws. It is a very good read, has been well thought out. Only disappointment I did not sense a lot of emotion from the main character. However this could be because of the character harden from the war. Beautifully set up for a sequel. I recommend the book.
The Taylor's Civil War was written by Lowell F. Volk. It is a great book that has the Civil War as its background, but there is much more to the story line than the war. It is a story told by the point of view of members of the Taylor family and those individuals they interact with. The main character is Luke, the oldest son, who we see mature from a young farm boy to a young man shaped by the war and the responsibilities of caring for his family.
I found it hard to put this book down. I wanted to find out what happened next and it kept me captivated throughout the story lines. There was much more to this movie, it had suspense, war and sprinkled with a little romance. It had several touching moments and characters and their lives could easily have been written about a true life family during the Civil war era. When someone died, I found myself either sad (it was a character I had grown to care about) or relieved (the enemy was shot).
I feel this book is a great read for anyone, especially if they like the Civil War era.
Tina Sansone
Bellaonline.com Genealogy Editor and Ebook Manager
Yvonne Hollenbeck posted in Western Writers of America, Inc.
| | |
| --- | --- |
| Yvonne Hollenbeck Named . Western Music Association (WMA) Top Female Poet 2006, 2007, 2008, and 2010. Academy of Western Artists' (AWA) Top Female Poet 2005. | 6:31am Nov 10 |

My husband likes to read Westerns. This past summer I was one of the entertainers at a festival at Cortez, Colorado. While killing time, I happened on to a booth where Lowell Volk of your organization was promoting his book series, "Trevor Lane." I decided to purchase the books to take home to my husband and he absolutely loves them. He is now reading them the second time. So, if you need a shopping hint or just enjoy good read yourself, I can sure recommend that you check out what our own, made in the USA writers have to offer! I'm sure there are a lot more equally as outstanding western books your members have for us to enjoy.